Designed and built by Creative Custom Stairs, this curved staircase was built in Port Charlotte, FL using black cherry treads and painted risers. The Old World Mill Works black cherry handrail and Old World satin black balusters create remarkable lines. The elegant starting step is a double bullnose black cherry tread.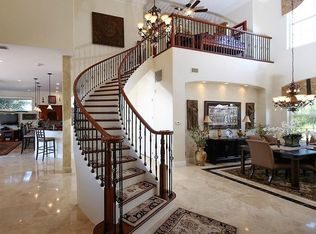 Creative Custom Stairs will provide you with the exact look you desire.
This balcony and staircase give this homeowner the warm, open feel they were hoping for. This Switchback staircase is made of Red Oak corner balustrades, newels, handrail and fittings put beautifully with painted matte black finish iron work and carpeted treads.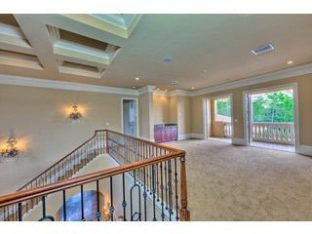 With a vision of old fashioned elegance, this long curved staircase catches all attention in the foyer.
Curved staircase with Red Oak handrail and 1st tread balustrade continuing with painted iron balustrades. The carpeted treads and risers softens the look.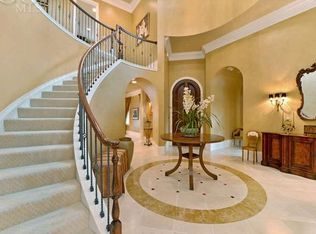 Located in Bradenton, this beautifully engineered u-shaped staircase has a Romanesque feel.  With its large circular medallions among the ovals shaped balusters.  The double  Bullnose stained tread is a nice contrast to the light colored carpeted tread and risers.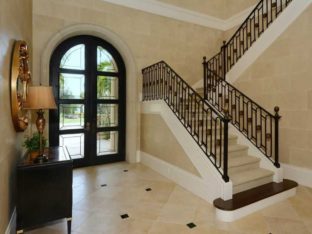 It is all in the details as in this Old World Scroll and iron balusters with Red Oak Handrail.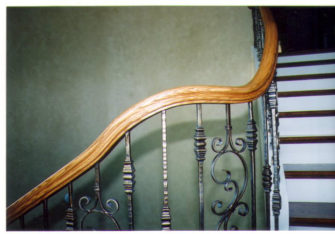 Stairs can be a reflection of your personality and loves.  The seagull on each riser is an artistic expression of one such example.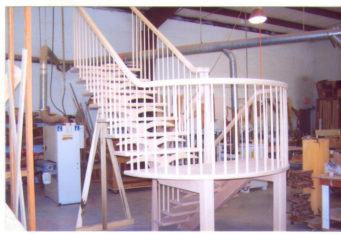 This beautiful Marco Island home has a long sweeping curved staircase that leads up to a balcony overlooking the Living Room and the view through the windows.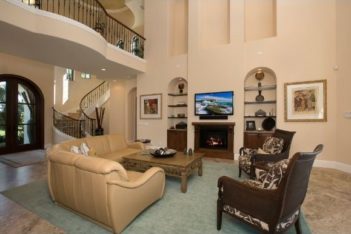 The view from the balcony continues on around the living room.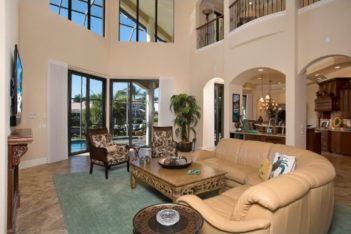 This beautiful Switch Back staircase, located in Naples, FL, shows how you can limit the space for a staircase and still have it look fabulous.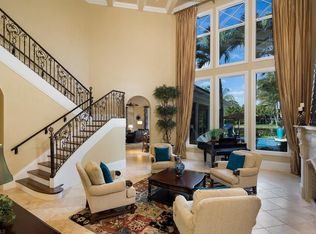 The black Iron Balustrades look striking against the white walls of this Naples, FL home.  Switchback staircase that leads up to a balcony with a view at the top.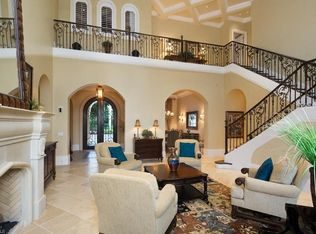 A Switch Back staircase located at the back of one wall in the Formal Living Space saves space and, at the same time, adds elegance.  The Iron Balustrades and Wooden Handrail Work well with the faux painted walls.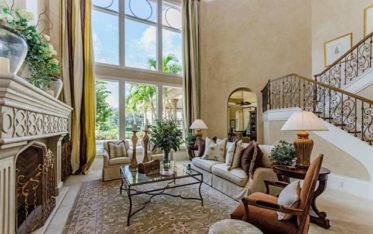 The next three pictures are of the same Curved staircase located in Cape Coral.  Constructed in Creative Custom Stairs workshop and then transported to location.  3 separate pieces were crane lifted, 1,000 lb sections, and then pieced together like a puzzle with an error tolerance of less than a thickness of a piece of paper.  Red Oak Treads and Tile Risers are stunning as you make your way up.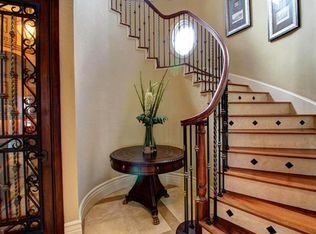 As you ascend the glamorous stairs your eyes go upward to the stunning lighting and architecture on the ceiling.  The Staircase framing the creativity.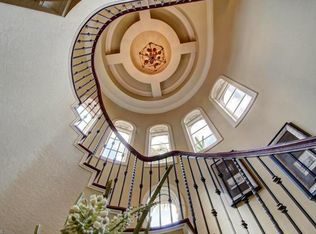 Landing on the curved balcony.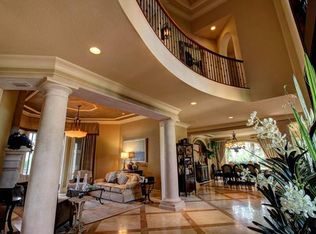 Fluted white baluster and red oak handrail gives this staircase a much more casual and relaxing feel.  Creative Custom Stairs can create the atmosphere you want to come home to everyday.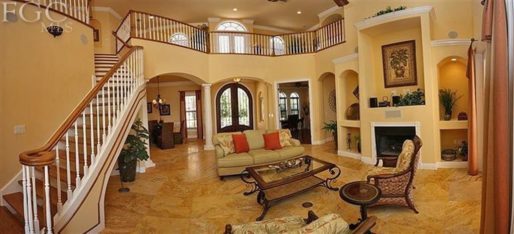 This Twin Staircase is the focal point for this grand foyer.  The archway seen here is actually the balcony above with views on both sides creating a "bridge".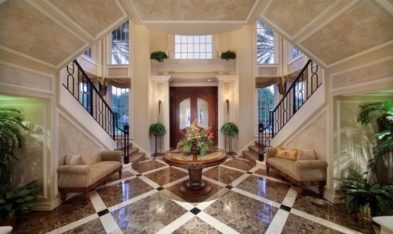 The view of the balcony from the formal living space.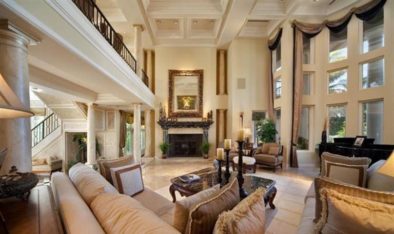 This Cape Coral home has chosen to not let the staircase be the focal point but did not pinch on quality.  This L-Shaped staircase with winder treads has over the post handrail, rail fittings, newel post, treads, risers, and balcony edges all made of Red Oak. Wrought Iron with alternating pattern Balustrade with satin black finish finishes up this staircase.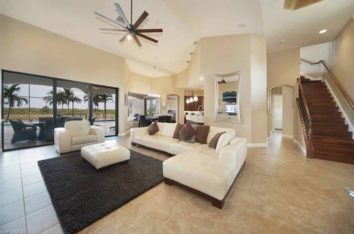 A Free Standing Serpentine or dual curves staircase located in Naples, FL. The intricate scroll work in the balustrade dances with the scroll work in the door.  Creative Custom Stairs will find that perfect match for you.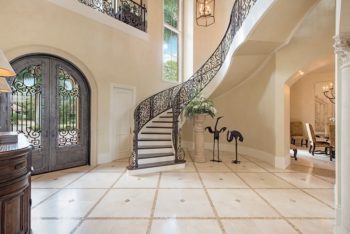 A long Free Standing Curved staircase that crosses over the foyer.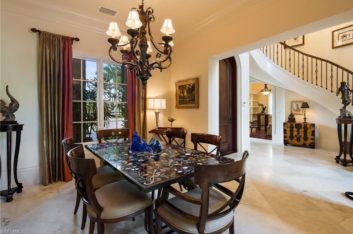 That continues up to a relaxing sitting area.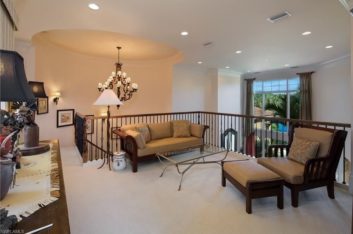 Overlooking the inviting pool
This simple but elegant L-Shaped staircase with oak treads and risers.  A black iron balustrades with oak newel on bull nose landing stair finishes your journey down.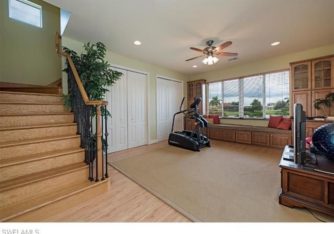 If you look closely at the design of the balustrade you can see how unique your home can truly be.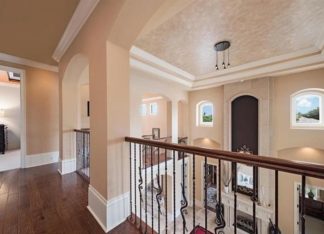 The Straight staircase leads you right up to the bridge balcony…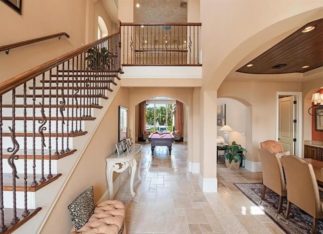 …so you can have a birds eye view of the game.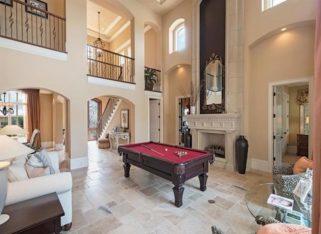 First Curved stairway built by Jesse Goodwin est 1990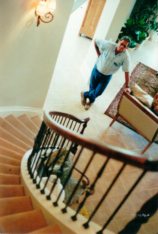 A custom made kayak Jesse  named "Muffy".  He honored it by inlaying the name on the side.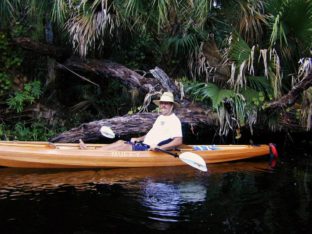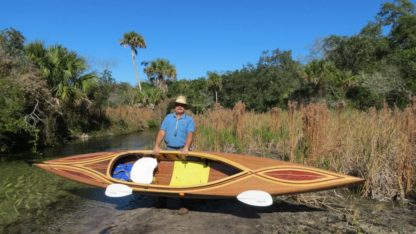 Building stairways is a process.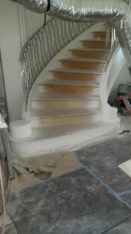 Here this Twin staircase the balustrades have put into place and is waiting for the wooden handrail.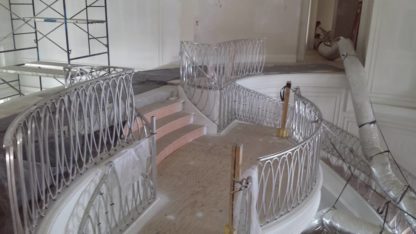 Detailing the switchback to the balcony.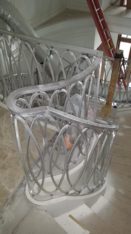 Jesse Goodwin Shaping a Handrail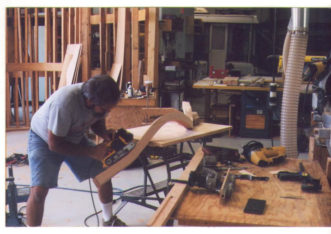 Gluing the layers of wood together to create the unique handrail.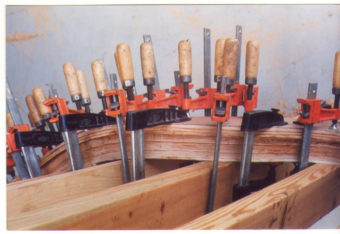 Lee Goodwin shaping and piecing together a handrail.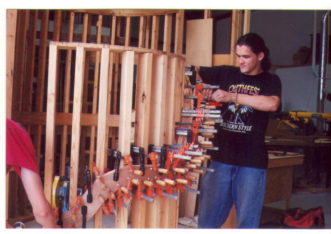 A perfect example of a Switchback Stair.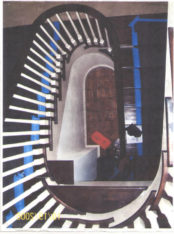 A Twin Staircase made of iron balustrades with wood newels and handrail with carpeted treads.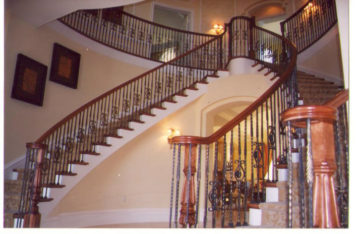 Top View of a Twin stair.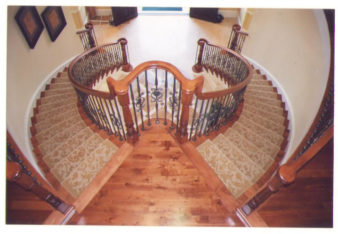 A Straight Staircase with a large landing. Made of all wood.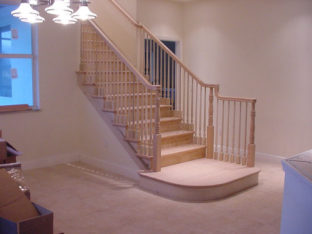 Red carpeted tread, chandelier, and the scroll work on the iron balustrades.  A picture of pure elegance.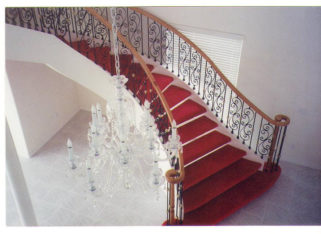 A very ornate balcony leading to a Curved staircase.  The balustrades are iron and wood alternate.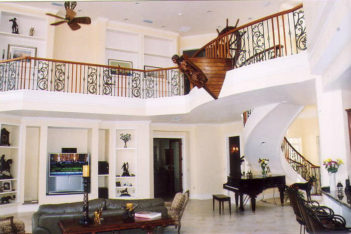 This Curved has scroll iron balustrade intermixed with straight knob iron balustrade.  A custom made wood handrail completes the look.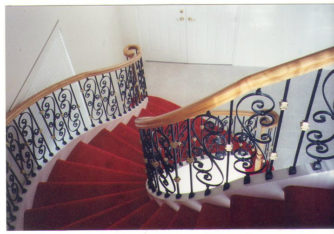 A Curved stairway with Oak treads and marble risers.  Black iron balustrades and custom made oak handrail.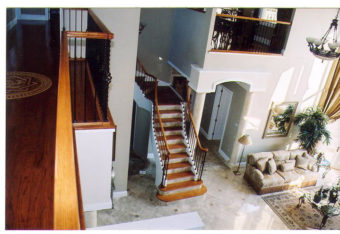 Here you can see the curvature of the Oak and Marble stairs more clearly.  The landing allows the stairs to turn more sharply.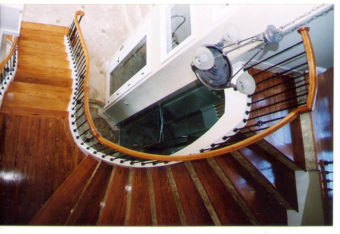 A grand Curved stairway.  Double Bullnose starting tread with stained and carpeted treads with painted risers.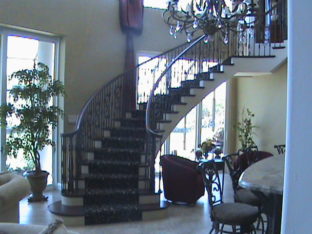 The Curved staircase, located at Marco Island, starts out straight at the top then starts to curve at the first landing to follow the flow of the windows.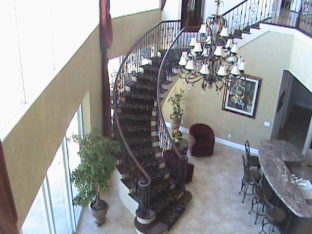 A more contemporary design, this all maple Curved stairway has an open, airy feeling.  This works well in a space a little more confined.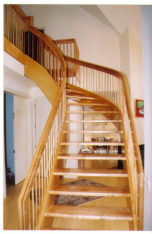 With nice clean lines, this self supporting stair is the perfect contemporary look.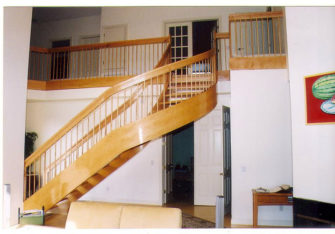 This Serpentine staircase is made of Mahogany and all self supporting.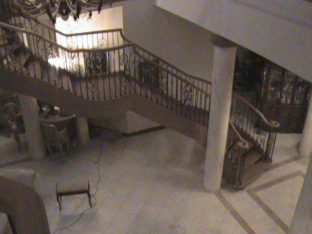 The "Julliet Landing" is referring to the way the landing bows out.  The handrail is hand crafted by Creative Custom Stairs.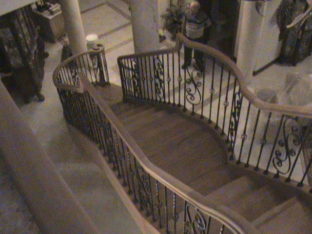 Double bullnose starter tread with open risers.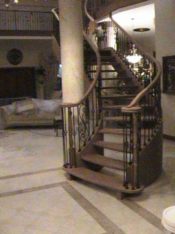 This beautiful, ornate, Mahogany and iron balcony shows exactly what is important to the owner.  Let your staircase speak volumes about you.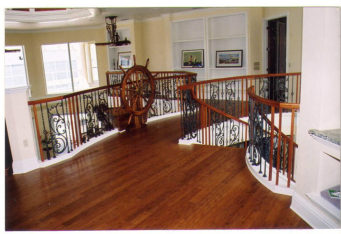 Mahogany and black iron balustrades alternating up the continuous Curved stairs.  The custom created mahogany handrail completes the look.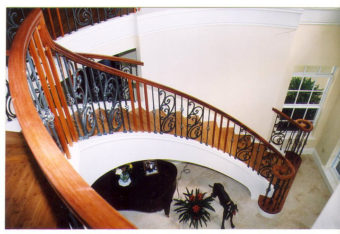 A mix of woods always makes for fun.  Mahogany and iron balustrades, mahogany handrail, and bamboo treads.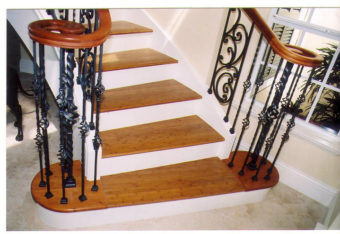 A captivating Juliet Balcony.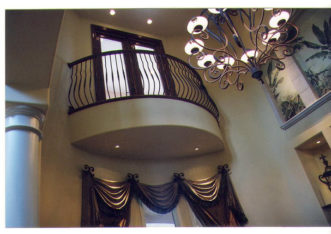 Beautiful Curved staircase made of a Caribbean wood named Jatoba or Brazilian Cherry. One of the most durable and most beautiful woods.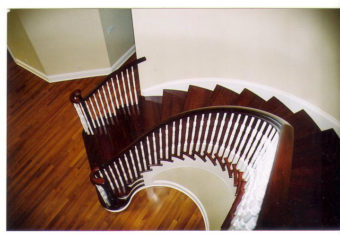 Double bullnose, flared landing all handcrafted by Creative Custom Stairs.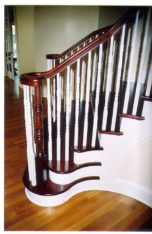 Jatoba Wood, or Brazilian Cherry, treads and white painted risers.  Absolute gorgeous contrast.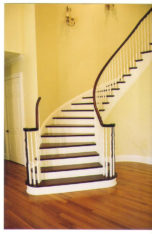 An exceptional Serpentine staircase that follows the round wall and lands in an extraordinary foyer.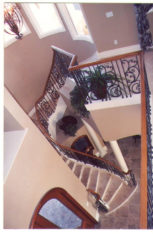 A close up of Creative Custom Stairs hard work.  The detail in the handrail and choice in the black iron balustrades.  The tile risers and treads add another dimension to it all.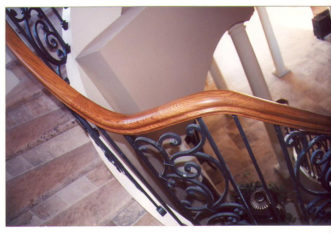 A very warm Switchback stairway, with wood treads, risers and handrail with black iron balustrades.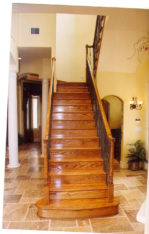 Wrought Iron balusters, custom created handrails, wood treads and risers.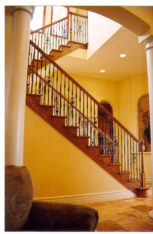 An artistic way to express your loves.  This Switchway, seagull stair was built in Creative Custom Stairs workshop then transported to Captiva Island.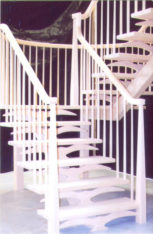 A close up of the intricate detail done on the risers to this creative staircase.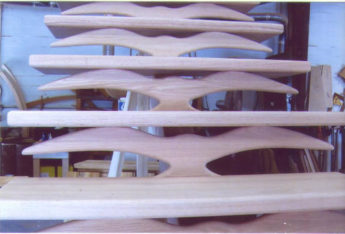 A view of the Juliet landing.  Sadly this staircase was destroyed in hurricane Charley, 2004.